Delicious Foods on the Town Clock Plaza
---
L&L Kebab House
Gyros, Philly Cheese Steak, Tibbou Fries w/ Cheese & Bacon
---

The Food Store
All Fruit Smoothies, Falafel, Eggrolls, Italian Beef Sandwiches, Fresh Cut Potato Fries featuring Organic & Locally Sourced Foods
---
D's Seafood
Fried Shrimp, French Fries, Cheese Curds, Corn Dogs, Tenderloins, Strawberry Smoothies

[hr]

Beauty & The Beef
Dubuque's hottest  food truck! Featuring Italian Beef, Post Roast Sandwich, Chicken Fusion Tacos, and Chicken Bacon Sandwich.

[hr]
West Dubuque Tap
Famous Pork Tenderloins, Green Olive & Swiss  Burger, Brats, Chips, & More!
[hr]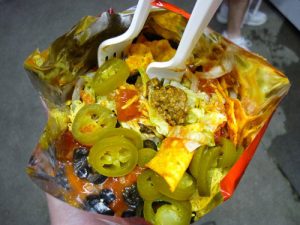 Carlos O'Kelly's

Dubuque's favorite Walking Tacos.

[hr]
Woo Man Sim

Beef & Chicken on Stick, Chocolate-covered Strawberries
---
Yummy Foods in Washington Park
---
Road Runner Concessions
Philly Steak Sandwiches, Chicken & Veggie Pitas, Lemon Shake-Ups, Burgers, Nachos, Walking Tacos, Wraps

---
Tommy's Concessions
All your favorite carnival concessions!
[hr]
Americana Concessions
Corn Dogs, Fried Pork T's, Tator Ribbons!

[hr]
Aston Concessions
Corn Dogs, Fried Goodies,  Cotton Candy, and more!

[hr]
Chappy's
Local Vendor Serving Fresh Dipped Corn Dogs, Deep Fried
Candy Bars, Nachos, Pretzels, and Elephant Ears!

---
The Coffee Wagon
Coffee, Espresso, Lattes, Smoothies, Iced Coffee, & Beyond! 
[hr]
East Mill Bakeshop & Catering
Pulled Pork Sliders with Homemade Slaw on Fresh Baked Buns, Pie by the Slice, and Baked Goodies! Featuring Organic & Locally Sourced Foods

---
Ice Cold Beverages
---

Dubuque County Fine Arts Society
Ice Cold Goose Island 312, Goose Island IPA, Millstream Schild Brau, Crispin Cider, Stella Artois, Bacardi Razz, and Budweiser & Bud Light served up Friends of DubuqueFest! Ice cold is key!
[hr]
Denotes fresh foods from our regional foodshed (90 mile radius).