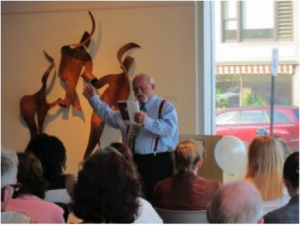 Dubuque Area Writers Guild Gallery 2016 Book Release & Reception
Friday, 6pm at Dubuque Museum of Art
The Dubuque Area Writers Guild invites you to the reading & release reception for the 2016 Gallery, "Shapes", an anthology of original work featuring local writers and artists of all ages. Celebrate an evening of words, refreshments, and readings by selected contributors. Books will be available for purchase at the reception, and at the art fair information booth in Washington Park throughout the weekend. The event is free and open to the public.
[hr]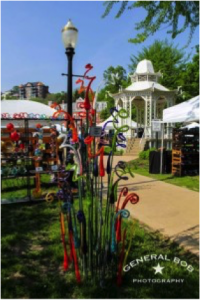 Fine Art Fair
Saturday, 10am – 5pm & Sunday, 10am – 4pm in Washington Park
DubuqueFest's juried fine art fair in Washington Park features the work of over 60 artists & artisans. We invite you to meet the artists, learn about process & inspiration, and invest in original hand crafted pieces. Shop for hand-blown & fused glass, ceramics, metal work, free form sculpture, painting, jewelry, fiber, fabric, photography, mixed media, textiles, copper work, hand turned wood, watercolors, leather work, wearable art, & more! It's an art gallery in the park! Free. Visit our Gallery of Artists for a sneak peak of the fair.
[hr]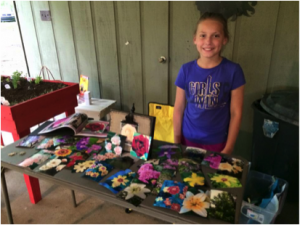 Youth Art Fair Sale
Sunday, noon – 3 pm in Washington Park
Let these kids amaze you with their mad art skillz. After making your way through our professional artists' tents, be sure to wander over to the youth art fair sale as well. Participants will be K-8 students from the Tri-State area. Made possible by a generous donation from Dubuque Bank & Trust.
[hr]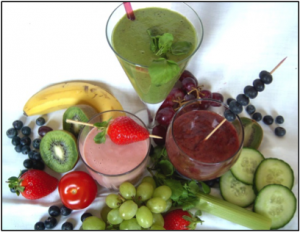 The Art of the Healthy Smoothie
Saturday & Sunday, various times in Washington Park
Stop by our demonstration tent at various times throughout the weekend to learn about how to squeeze extra healthy veggies into delicious refreshing smoothies. You just might get to sample some!
[hr]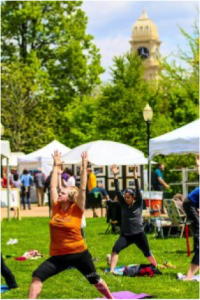 Yoga on the Lawn
Saturday & Sunday, 10 am in Washington Park
Grab your yoga mat or a blanket and join instructor Trish from Ignite Power Yoga Studio for yoga on the lawn. A gentle morning stretch for all levels. Breathe!
[hr]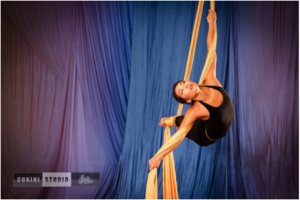 Defying Gravity with Elevate Vertical Fitness
Saturday & Sunday, 2 pm in Washington Park
These aerial performers are bringing you gravity-defying entertainment! You'll have two chances to catch them throughout the weekend as they perform skillful elevated routines twenty feet in the air.
[hr]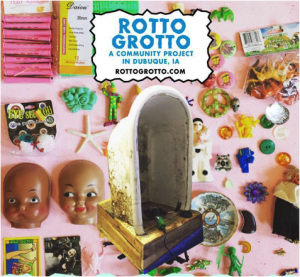 Rotto Grotto
Saturday 10 am – 5pm, and Sunday 10 am – 4 pm in Washington Park
Join local artist Becca Kacanda for a live sculpting community engagement project. Learn about grottos around the Midwest, and even try your hand at building your own secular shrine in the park!
[hr]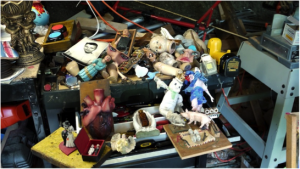 ART SLAM!
Saturday, noon – 3 pm
Everyone is invited to take part in this timed competition. We will provide a mountain of items that others may consider junk, but it's up to you to come up with a creative piece of art on the fly. Bring your own preferred tools (brushes, paint, glue, hammer/nails, needle/thread,etc.) by noon on Saturday to be eligible to participate.
[hr]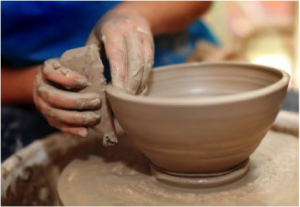 Wheel Thrown Pottery Demonstrations
Saturday 10am-5pm & Sunday 10am-4pm in Washington Park
Potter Gary Carstens and friends of Mississippi Mud Studios offer wheel-thrown pottery demonstrations. You can try too!
[hr]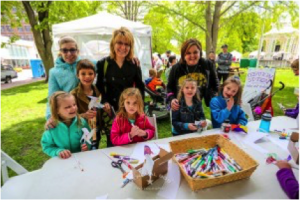 Children's Creation Station
Saturday 10am-5pm & Sunday 10am-4pm in Washington Park
Parents and children are invited to get creative with hands-on projects.Through a partnership with Green Iowa AmeriCorps, join in the fun of creating sustainable and eco-friendly crafts this year. Among the activities will be pottery painting, including a seedling that children can plant in their pot and take home!
[hr]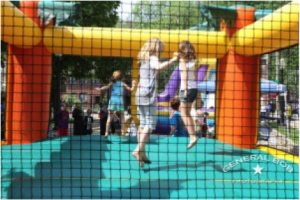 Inflatable games for Children by LT Amusements
Saturday & Sunday 11 am-4 pm, on 7th Street near Washington Park
Climbing wall, bouncing castle, super slide, and more! Tickets must be purchased to enjoy amusements.
[hr]
Knit in Public Day!
Sunday 1 pm – 3 pm in Washington Park
Join other fiber enthusiasts for a fun, informal celebration of all things yarn-related! Grab your needles, hooks, latest project, and a blanket or lawn chair and settle in for a relaxing afternoon of knit or crochet crafting on the lawn. Click here to checkout this awesome human loom video made at DubuqueFest 2014!
[hr]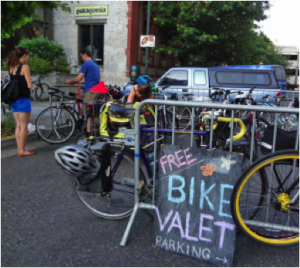 Bike Valet
Friday 5pm – 10 pm, Saturday noon – 10pm in Town Clock Plaza
Let's ride! Join the Dubuque Bike Coop and local bicycle shops in ditching that car and biking to DubuqueFest! Volunteers will staff a secure, barricaded bike valet service near the Town Clock during all music performances. Park your bike worry-free while you enjoy art, music, food and more!
[hr]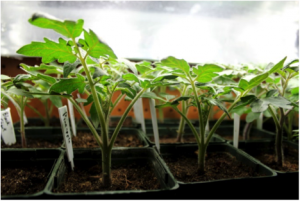 Local Growers Mini-market
Saturday, noon – 5 pm at Town Clock Plaza
Starting a garden of your own? Want to learn about how to take the best care possible of your veggies at home? Stop by and talk to local expert growers who will have seedlings for sale on Saturday afternoon in Town Clock Plaza.
[hr]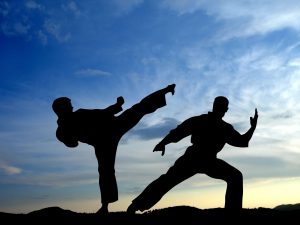 Tai Chi Demonstration
Sunday, noon in Washington Park
Yang Style Tai Chi demo with masters Greg & Jayne Miller. Enjoy the flow of Tai Chi, with Q&A after.