2019 Arts & Wellness Programming!
Dubuque Area Writers' Guild Reception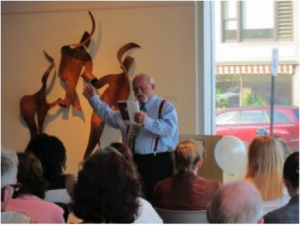 Friday, 6 – 8 pm at Dubuque Museum of Art
The Dubuque Area Writers Guild is excited to announce that it will be publishing the 43rd edition of its Gallery book project. This year's publication will be an open-genre anthology showcasing the art and writing of Dubuquers and those with ties to the Dubuque area. Writers and artists are of all ages and may be invited to read at a reception to celebrate the launch of the anthology, which will be held Friday, May 17th during at the Dubuque Museum of Art. The public is invited to attend the reception/reading and encouraged to purchase copies of The Gallery.
Books will also be available at the art fair information booth in Washington Park throughout the weekend. Free and open to the public.
---
Fine Art Fair
Saturday, 10 am – 5 pm & Sunday, 10 am – 4 pm in Washington Park
DubuqueFest's juried fine art fair in Washington Park features the work of over 40 artists & artisans. We invite you to meet the artists, learn about process & inspiration, and invest in original hand crafted pieces. Shop for hand-blown & fused glass, ceramics, metal work, free form sculpture, painting, jewelry, fiber, fabric, photography, mixed media, textiles, copper work, hand turned wood, watercolors, leather work, wearable art, & more! It's an art gallery in the park! Free. Visit our Gallery of Artists for a sneak peak of the fair.
---
 Kids' Creation Station Tent sponsored by the Dubuque Museum of Art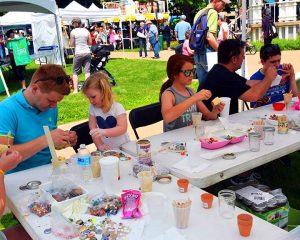 During Art Fair hours in Washington Park
The Dubuque Museum or Art is putting together the Kids' Creation Station tent, both Saturday and
Sunday during the art fair. Multiple projects will be instructed and supplies will be available for anyone to create their own pieces. Creativity is nourishing for the soul, let's make things together! Dubuque Museum of art will be offering tours of their new exhibit throughout the weekend.
---